IT staff augmentation is a software development outsourcing strategy that allows you to bring talented individuals and control development costs. Discover its benefits and potential drawbacks.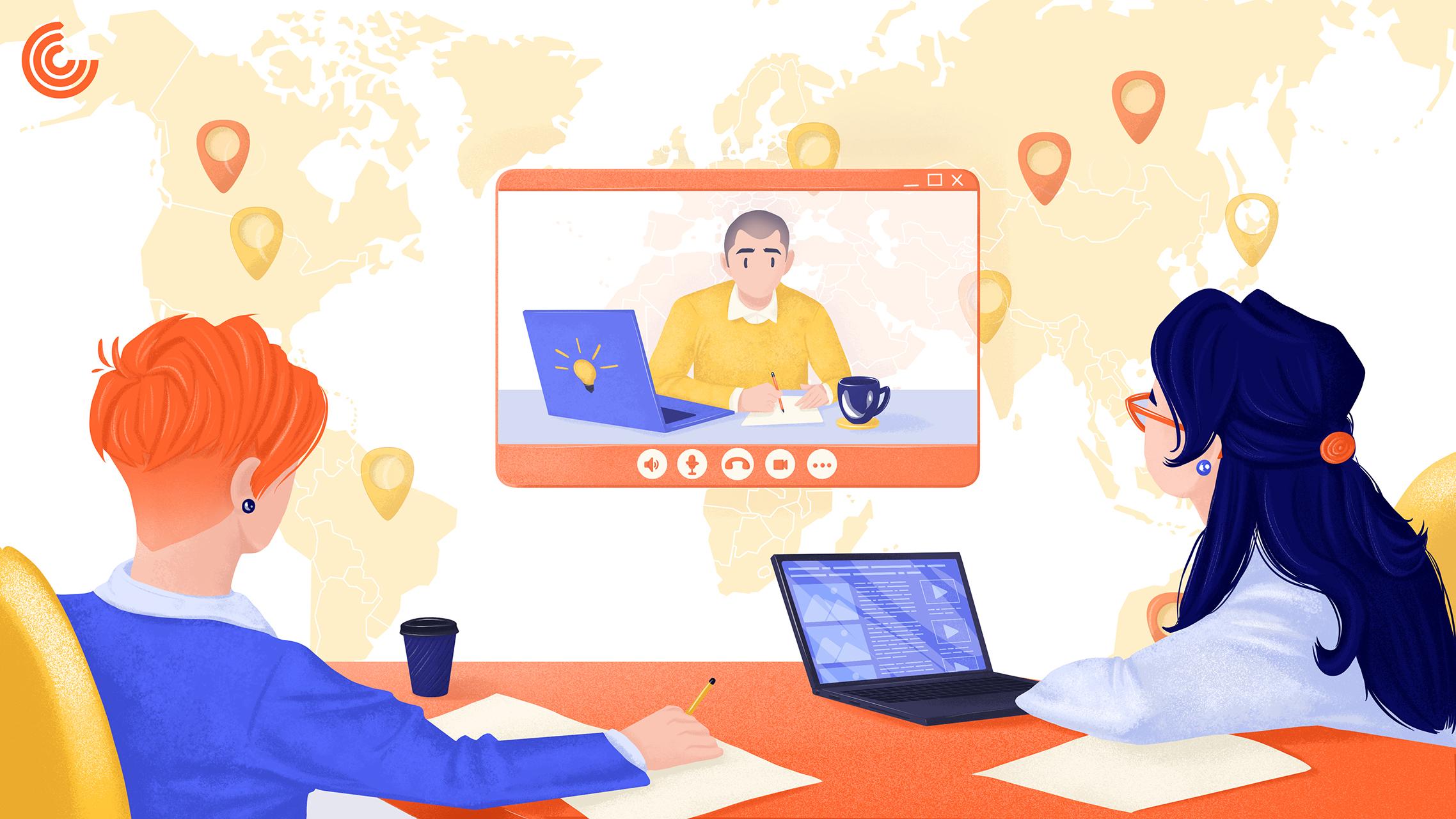 If you're searching for a solution to expand your team quickly, you may have encountered the concept of IT staff augmentation. It is a well-established method of meeting your business needs and hiring top talent for remote, long-term, and consistent collaboration.
So what exactly is the staff augmentation model all about?
Is it the right choice for you?
In this article, we'll overview the characteristics of staff augmentation, highlight its benefits, and give tips on how to grow your team as efficiently as possible.
The process of hiring IT specialists in 2023  can be a challenge.
Whether you rely on your internal HR and recruitment team or engage an outside agency for headhunting, filling an in-house engineering position takes considerable time.
In recent years, the hiring process has only become longer.
For instance, according to data from 2017, only 30% of companies could fill their vacancies within an average of 30 days. The rest required anywhere from one to four months, or even longer, to find and hire the right employee.

The average duration of the hiring process varies across industries. In 2018, Statista reported that the IT industry had the fourth longest time to hire in all sectors, with an average of 42 days.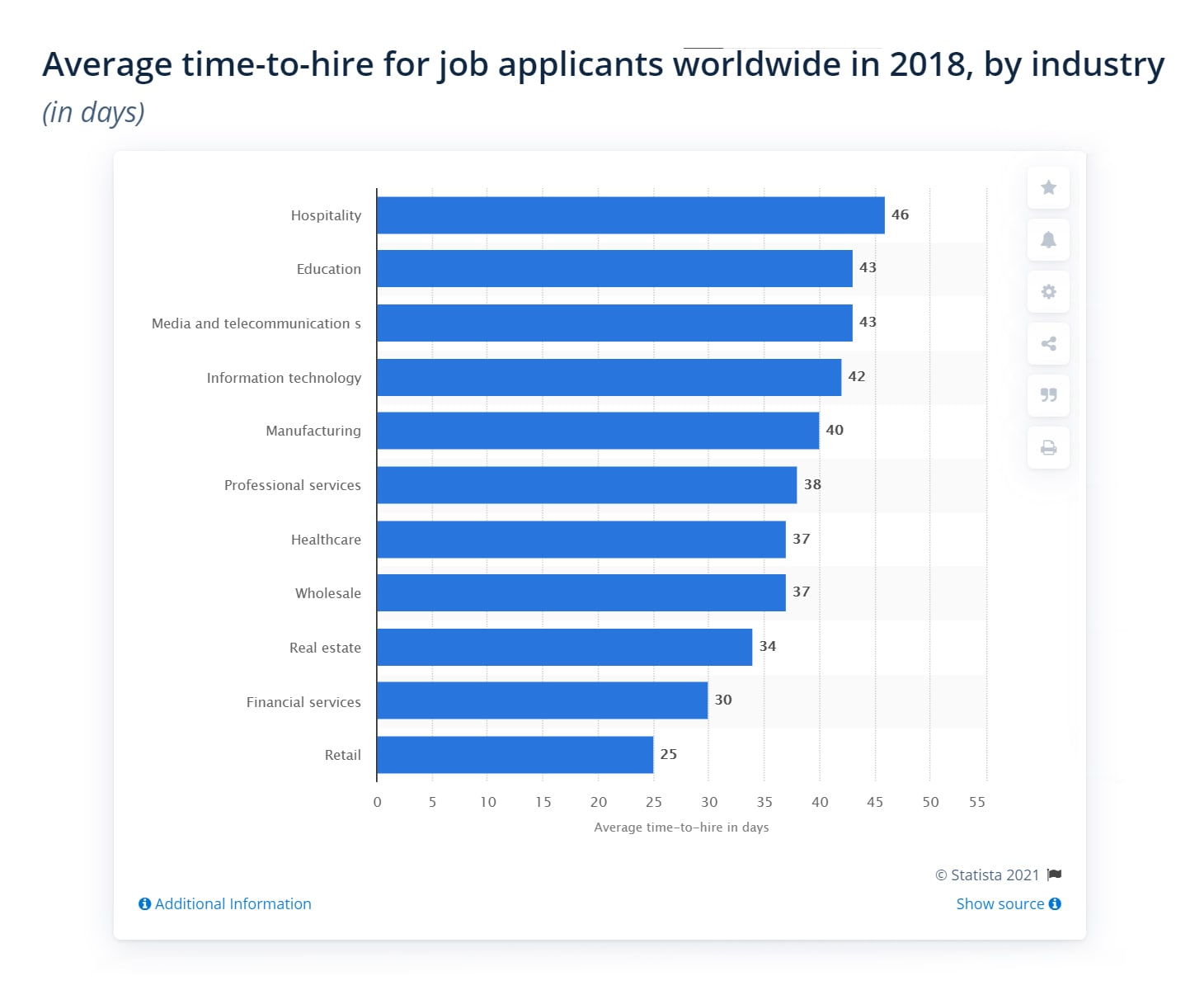 However, larger companies tend to have a shorter hiring process than smaller ones. Nevertheless, even for companies with over 5,000 employees, the average time to hire still exceeds 35 days.
One may believe that there are always exceptions to the rule.
Indeed.
Take Google, for instance, as a leading IT industry player. Despite having a team of experienced recruiters and skilled interviewers, Google still invested a significant amount of time in the hiring process due to its constant need for exceptional talent.

So what's the current situation?
Since 2019, Google has been working to streamline its interviewing process to reduce hiring time. Other companies across the globe are also trying to follow this example and hire new talent as efficiently as possible. However, the COVID-19 pandemic has made the hiring process even more challenging, as skilled specialists have a multitude of job options available to them.
After a temporary dip in job openings in the first and second quarters of 2020, the IT job market has experienced significant growth.

Data from Janco Associates, Inc. on the IT job market and US national employment trends indicate positive developments in the number of IT jobs, salaries, and overall size of the job market. With a record high reached in May 2021, IT jobs continue to grow.
Organisations need help to fill open IT positions in the current environment. Hiring skilled engineers in-house takes more time, effort, and resources than in pre-pandemic times.
From small startups to large corporations like Google, all companies strive to work with top-notch talent in a rapidly changing and challenging landscape.
Is there a solution to this hiring dilemma?
In-house hiring vs outsourcing and IT staff augmentation
Outsourcing software development can be an excellent option for scaling your team, and it allows you to delegate tasks to a remote team, either domestically or internationally.
And when you choose to outsource, you have two options: outsourcing an entire project or hiring specialised IT engineers for specific tasks. The latter is known as IT staff augmentation.
IT staff augmentation is a cost-effective alternative to traditional in-house hiring.
You can quickly bring on as many specialists as you need, for as long as you need, without dealing with the HR headaches that come with in-house hiring. It can significantly reduce your hiring time and allow you to quickly launch new products or updates, staying ahead of the competition.
So, what are the key benefits of IT staff augmentation? Let's take a closer look.
What are the five benefits of IT staff augmentation that will transform your business?
How can you reap the rewards of IT staff augmentation services?
Advantage of tapping into a wider pool of expertise
The internal team you have worked with on a single product for a long time might have limited experience compared to potential IT outsourcing partners. These outsourcing companies have broad expertise as their specialists work on various projects and utilise multiple development tools. Unlike in-house specialists who concentrate on a single product, these specialists move from one task to another, creating solutions from scratch and coming up with unique architectural decisions that help enhance their overall expertise.
Handle sudden workload spikes.
Your internal product development team may have a well-defined roadmap and plans, but they may need help to handle sudden increases in workload. They work diligently daily to grow your business and provide you with engineering support.
However, when unexpected challenges arise, they may need help promptly to keep up with the increased workload.
A consistent and steady work pace is typical for product development teams. This rhythm they maintain over time helps them deliver high-quality features and contributes to creating exceptional products. But when faced with tight deadlines, this consistent pace may become a challenge.
Specialists hired through the staff augmentation model are accustomed to operating in a fast-paced environment. They prioritise critical tasks and work on them for as long as necessary to ensure that the desired functionality is delivered before the deadline. Furthermore, their broad experience allows them to anticipate potential issues and discuss risks and challenges with you before the release date is set.
IT staff augmentation might be the ideal solution for you if you're seeking specific expertise and a unique approach. The pool of local candidates you can consider is limited, especially in light of the post-COVID hiring difficulties.
IT staff augmentation offers you access to the most experienced professionals worldwide who can take your business to the next level.
The faster you can detect a gap in the market, build a team, improve your app, and launch new features, the better your chances of capturing users' attention.
There are other options than waiting several months to hire a single employee, as your competitors may be hiring, coding, and growing while you are still evaluating resumes and conducting interviews.
IT staff augmentation offers an efficient solution to this problem. You can quickly find new employees with the necessary skills and expertise without investing too much time and effort in the hiring process. Additionally, you can scale up or down according to your project's needs and only pay for the hours worked.
With in-house hiring, you are obligated to continue paying a salary even if there are no more tasks, whereas, with staff augmentation, you can adjust the contractor's hours as needed. This flexibility and cost-effectiveness make IT staff augmentation an attractive alternative to traditional in-house hiring.
Reduce HR responsibilities
IT staff augmentation offers a solution to reduce your involvement in HR-related tasks:
Recruitment: Whether you have an in-house recruitment team or delegate the process to an external agency, recruitment can take up much of your time and budget. External recruiters may need help finding suitable candidates with the right soft skills, while your internal recruiters may have limited resources. With IT staff augmentation, your development partner takes care of the recruitment process by providing you with the CVs of available developers ready to work on your project. They can organise interviews and handle all communication, freeing you from the time-consuming process. All you have to do is approve the best candidates.
Employee Retention: Retaining employees after successful recruitment is crucial but can also be challenging. With IT staff augmentation, your development partner handles employee retention, from paying salaries and offering benefits to building the work schedule, providing professional growth opportunities, and maintaining a positive work environment.
HR Legal Services: Legal tasks such as contracts and NDAs can be complicated, especially when hiring specialists abroad. With IT staff augmentation, your development partner handles all legal matters, from signing the agreement to resolving legal issues and providing consultation.
IT staff augmentation allows you to optimise development costs by eliminating unnecessary expenses and focusing on what matters for your business. You only pay for the development hours, cutting down on costs for office infrastructure, recruitment, and HR services. In addition, offshore staff augmentation services in destinations like Ukraine can offer more affordable prices compared to the US, where software development services can cost $150 or more per hour.
Staff augmentation concerns and how to overcome them
Staff augmentation has become a popular solution for businesses looking to expand their development teams, but it's challenging. In this article, we'll explore three common concerns and provide practical solutions to overcome them.
Challenge 1: Communication Skills
To overcome the quality of communication with remote engineers, choosing the right vendor is essential. An experienced development agency with a track record of working with international clients is likely to have established effective communication practices. The location of the engineers also plays a role. Many software engineers in Ukraine have intermediate to advanced English skills, making it a suitable destination for staff augmentation services.
Solution: When looking for a staff augmentation vendor, research their reputation and read reviews from their previous clients. This can help you gauge the quality of their communication and ensure that it aligns with your expectations.
Challenge 2: Time Zone
Working with remote engineers across different time zones can be challenging but also an advantage. A time difference of three to five hours is manageable, while a difference of five to ten hours can be leveraged to extend the working hours of your development team.
Solution: Consider the time zone difference when selecting a staff augmentation destination. This will allow you to set up a convenient work process for your entire team, including daily stand-ups to ensure everyone is on the same page.
Challenge 3: Mismatched Expectations
With a distributed development team, it can take time to ensure that the final product aligns with your initial requirements. To overcome this, clear and accurate documentation is vital. This includes a well-written project requirements document, clear agreements, and daily meetings to keep everyone up-to-date on the project's progress.
Solution: Start by reviewing and refining your project requirements document to ensure it's as detailed and accurate as possible. Additionally, set clear deadlines, sign agreements and NDAs, and establish good communication practices, such as daily meetings, to keep your in-house and remote teams aligned.
IT staff augmentation: cost & payment model
In the IT staff augmentation model, you pay a fixed monthly fee for a dedicated full-time software engineer. It is typically less expensive than hiring an in-house engineer, as it includes only the hourly rate for the engineer and does not factor in additional expenses like HR, rent, and equipment. Additionally, with IT staff augmentation, you have the flexibility to hire a software engineer for as short or as long a period of time as needed.
This model allows businesses to work with IT experts worldwide, quickly scale their development teams, and avoid HR-related tasks. IT staff augmentation also allows for more efficient resource allocation, reducing unnecessary expenses and allowing businesses to focus on growth.